by Nance Haxton
Proud Nunukul, Ngugi and Goepul artist Delvene Cockatoo-Collins is taking stories from Quandamooka Country to the world as part of the Australia Pavillion at the World Expo in Dubai.
More than 25 million people are expected to visit the six-month event which continues until the end of March next year.
Delvene is based on Minjerribah or Stradbroke Island, where the Quandamooka people have an established connection going back more than 20 thousand years.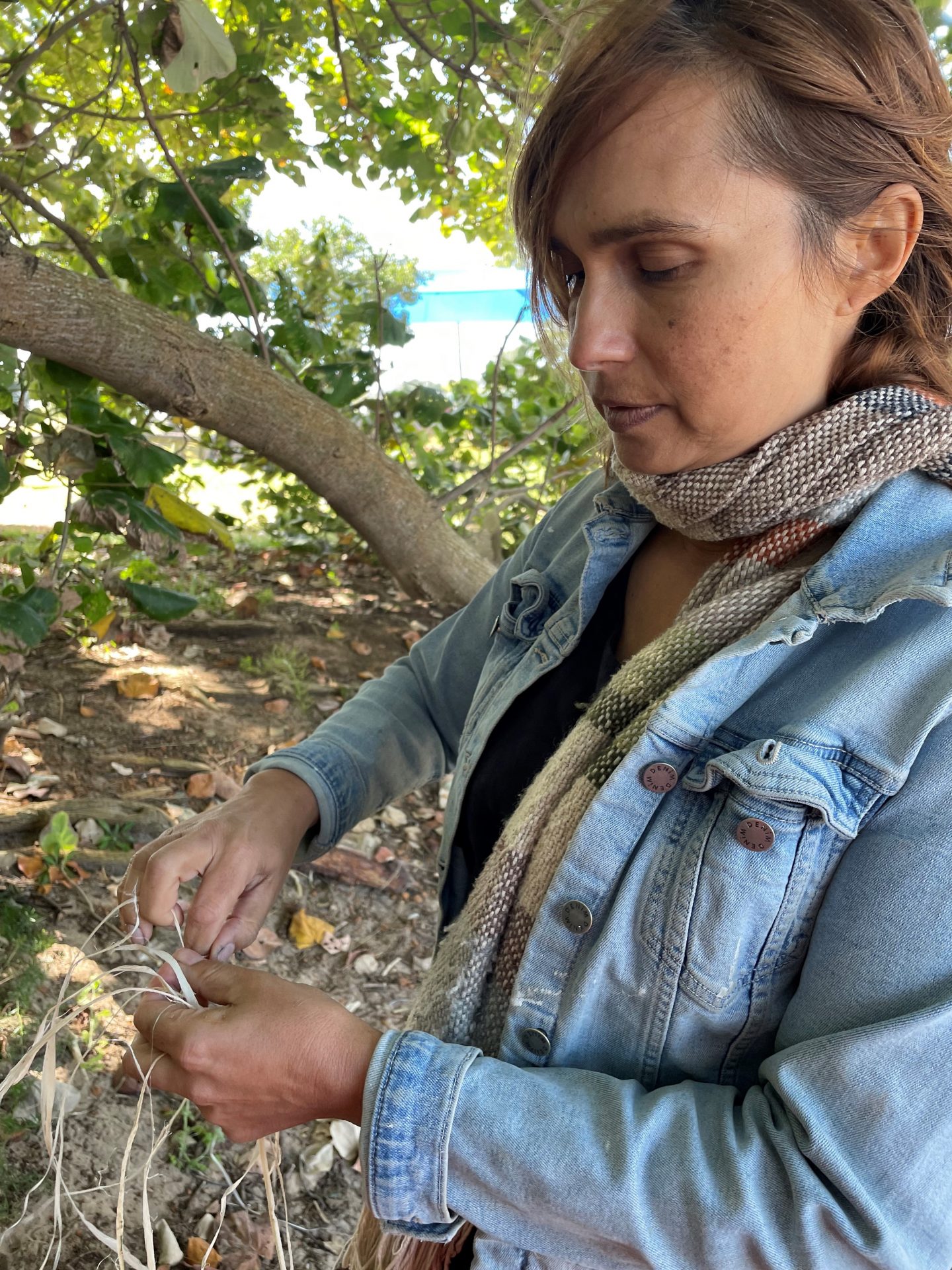 Delvene says it is a privilege to be chosen to exhibit at such a prestigious event.
"My work will have this first-time international presence in that. I'm super excited," she says.
"I think I'm only able to do what I do because of the legacy from my family.
"And from the broader community there is this sense of independence here. There is a strong cultural practice and history. And it all greatly impacts and supports my arts practice."
Her works are based on stories passed down to her from her mother Evelyn and grandmother Bethel, and generations of her family before them.
Delvene uses materials she gathers on the island, near her studio which is within walking distance of Goompi, or Dunwich ferry terminal.
Her work became well known when she was chosen to design the medals and presenter's uniforms for the Gold Coast 2018 Commonwealth Games, and for her representation of the white whale Migaloo which floated high above the audience in the opening ceremony.
"My work in the Commonwealth Games is still benefitting what I'm doing now – those relationships," she says.
"For Dubai it's my handprinted homewares, eight of them are going to be in amongst 300 other Australian made products in the Australian pavilion retail store."
She hopes to visit in person to see her works at the World Expo if travel restrictions allow.
The World Expo has been hosted every five years in a different location since 1851, connecting countries around the world. The Dubai expo was delayed a year because of Covid.
Delvene regularly hosts walking tours of Minjerribah for people keen to get a First Nations perspective of important artistic and cultural sites on the island that are often overlooked.
"This beautiful salt water that we're looking at now always offers so much, and I'm very grateful for that," Delvene says.
"There's places to stop to look, reflect and listen.
"Mulgumpin (Moreton Island), we know it was close enough that our people could communicate with each other. So that passage has widened over time and it is quite rough through there. But we know our people came across.
"This cotton tree has lovely shade. It's a playground because of the low-lying branches you often find kids playing in here, but it's also a tree that's found right across the Pacific and many of us use it for the same purpose and that is for twine making so it's a beautiful inner bark that is removed to make a rope type of fibre. And also the long straight branches are used for spears.
"It's something that unites communities across the Pacific.
"It's a tree that keeps giving. For me it's magic really."