Image: The AFL's Sir Doug Nicholls Indigenous Round starts this weekend. (AFL Photos)
The AFL is the latest sporting code to formally back a 'Yes' vote in the Indigenous Voice Referendum.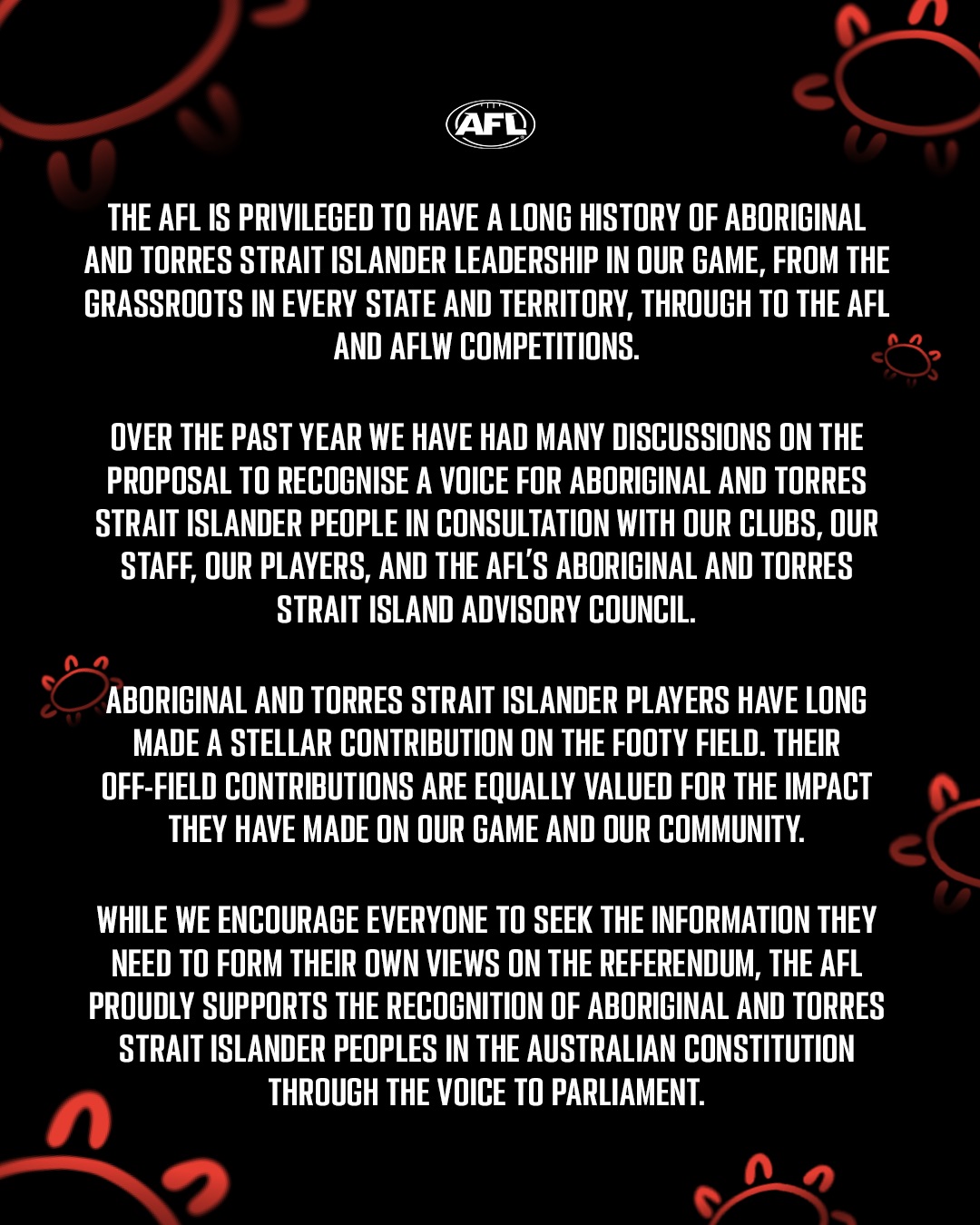 In a statement released on Thursday, the league said it made the decision after many discussions and consultation with clubs, staff, players and its own Aboriginal and Torres Strait Islander advisory council.
"The AFL proudly supports the recognition of Aboriginal and Torres Strait Islander Peoples in the Australian Constitution through the Voice to Parliament", the statement read.
It also acknowledged the "long history of Aboriginal and Torres Strait Islander leadership in our game, from the grassroots in every state and territory, through to the AFL and AFLW competitions".
The AFL joins the Australian Olympic Committee, Commonwealth Games Australia, Tennis Australia, Football Australia, and the NRL in backing the Voice, with Rugby Australia also confirming its support on Wednesday.
The announcement comes ahead of the AFL's annual Sir Doug Nicholls Rounds, which runs over the next two weeks, and celebrates the contributions of Indigenous culture, people, and players to Australian football and the community.
The AFL's General Manager of Inclusion and Social Policy Tanya Hosch told the ABC it was important to be transparent about their values as a code.
"We're certainly not taking this opportunity to tell other people how they should vote, but we felt that it was important, and the AFL Commission wanted to be very clear and transparent that in line with our values as a code, that we believe that this is an important next step in the development of the Australian Constitution."
Ms Hosch, a proud Torres Strait Islander woman, also acknowledged the harm racism in the game has had on players and fans but says it up those within the code to address it.
"Certainly, we know that taking a stand consistent against racism isn't completely lacking in relevance to the conversation about the Constitution, but they're certainly not expecting a Constitutional change to address racism in the game, that is something we've got to work on and be vigilante about".