Selve is Loki Liddle (Jabirr Jabirr; Lead Singer + Songwriter), Reece Bowden (Anaiwan; Bass + Guitar +Vocals), Creation Saffigna (Vocals + Percussion), Michael Baldi (Drums), Liam Kirk (Keyboards) and features vital contributions + compositions from former member Harry Edwards (Bass + Guitar).
In what's believed to be a first, Gold Coast based Indigenous-led band Selve has released a visual album along with their debut album, 'Red Desert Dream' which drops today.
The concept album was the vision of lead songwriter and Jabirr Jabirr man, Loki Liddle but was composed by all members of Selve across the thirteen tracks on Red Desert Dream.
As part of the debut album release, the alt-rock band worked closely with Kabi Kabi/Gubbi Gubbi and Wiradjuri writer/director, Alethea Beetson, who created the visual imagery and creative vision seen across the seven film clips which make up the visual album.
Liddle says the first track for the album, 'Phonebooth' came to him while he was sitting at home in Tugan after a phone conversation with his Aunties (based in Broome) about Jabirr Jabirr culture.
"I was filled with this feeling of longing, of wanting to cross a great distance and get to that place. And then I started writing this song, which had a mood to it. But I started getting these kinds of visions of being, in the middle of the desert, there's kind of one long highway, there's that classic kind of abandoned looking motel in the middle of nowhere, and there's a phone booth ringing in the silence under the desert night.
Then I had this feeling that when I answered the phone booth, it was my ancestors on the other side, calling me to come across. So that kind of imagery, that desert noir-esque imagery, kind of became this seed that began, all the other songs which began to grow from that place."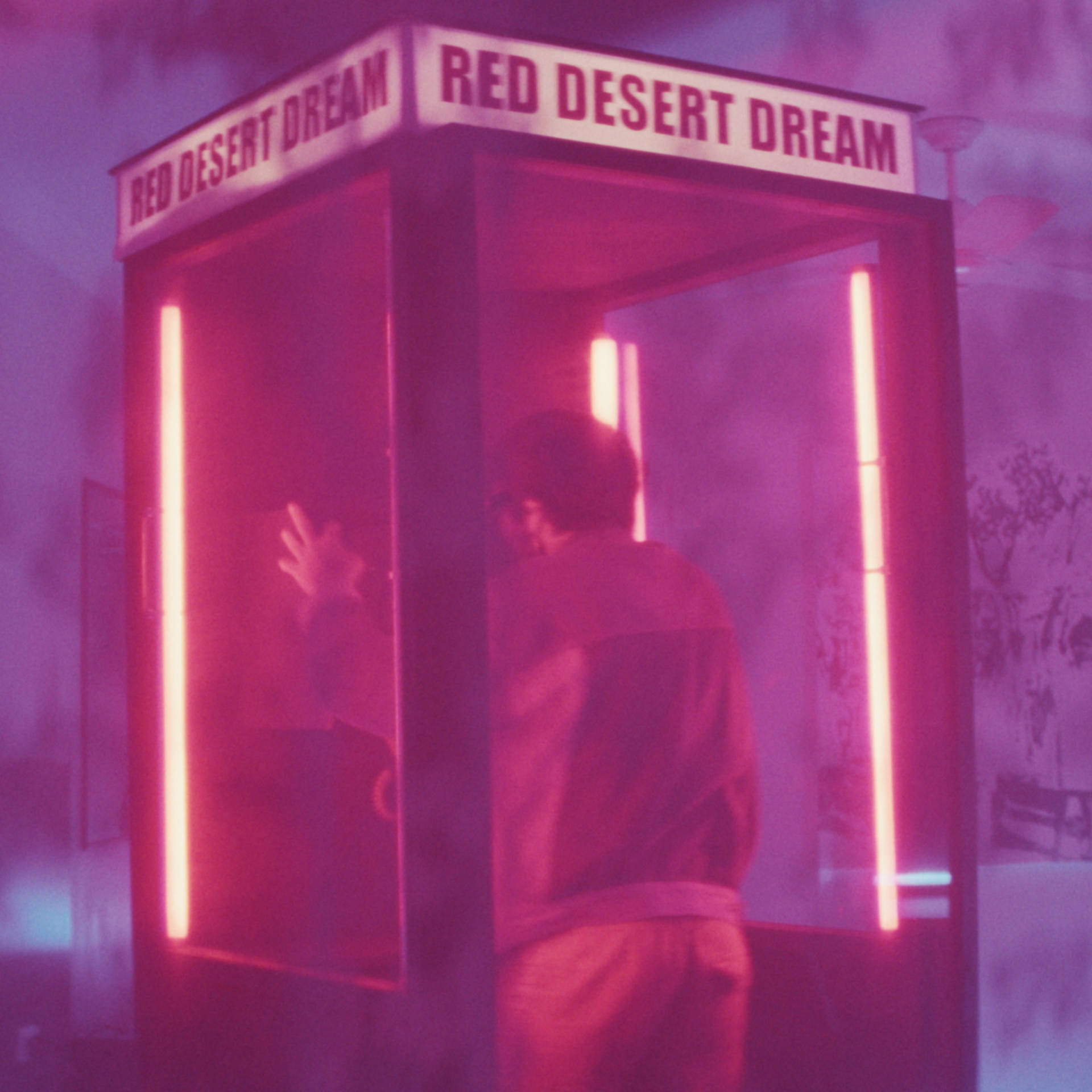 Liddle started writing what would become Red Desert Dream in 2020 and says it was the longest and slowest project he's ever done.
"Over the course of the whole time from that first song in 2020, to when we got the songs mastered in 2022, it was a really long process where the narrative began growing from that song, to the next song, to the next song, to where we have thirteen songs that are all interconnected, as kind of these nonlinear puzzle pieces to a same story that is about invoking a feeling and telling a story through those images."
Through those images, the visual album adds to the narrative of Red Desert Dream – the debut album. Beetson takes the viewer through an Indigenised heist film concept full of suspense, intrigue, mystery and at times also plays with Indigenising the horror film genre.
Beetson sys it can only be described as a reclamatory assault to the senses.
"Deep time and the concept of ancestral fate plays a central role in the narrative of Red
Desert Dream's visual album. Being gifted the opportunity to tell a story from the stimulus that is Selve's music allowed for me to return the gesture with an equally playful and multi-layered visual story."
It was a visual story which the band left in the hands of Beetson, confident that as an Aboriginal creative, she would understand and interpret the music in a way which fit with their intentions and vision.
As Beetson explains, Red Desert Dream's visual album was also a part of the first project in a new program Blak Narrative Music Videos (BNMV): Volume 1, which was led by Blak Social (Beetson and Liddle's arts business) and funded through Arts Queensland. Beetson wanted to look at a way which connected Aboriginal and Torres Strait Islander creatives with Indigenous musicians to create visual content together. She says it was a way to develop both Indigenous filmmakers and Indigenous music creators.
"Blak Narrative Music Videos provides a much needed space for Indigenous creatives to
collaborate on music videos told by and for mob. There are so many ways the music industry can provide opportunities for First Nations creatives, and this pilot program is one example of this."
The seven film clips tell the story of the music through a nonlinear almost 'backwards' storyline like the film 'Memento' Liddle explains.
"At the heart of the story is a character who is kind of at a fork in the road. There are these two versions of this character. There is the Desperate Dream character and the Red Desert Dream character. It's partly about this character facing a version of oneself that has been programmed by the colony around us. A version of ourselves that has to die so that we can become the person we're really meant to be. It's definitely about a reckoning, it's about so many things. I mean, there's a figure who represents the white music industry who is digging his own grave. You can imagine that elite, they put that in there, and there is this whole, you know, a whole host of things. There's also this host o of deadly, deadly blak actors playing some awesome roles."
So how does Liddle feel about the fact that this visual album is possibly the first by an Indigenous band?
"The significance of being able to put a visual album like this out, I can't do without acknowledging all of the mob who've come before or the mob in music, who have been fighting forever to open up the spaces and create the pathways so that this could even happen, is impossible without all of them, who've come before. And I only hope that through this, that it can create inspiration for other Indigenous musicians, and also that through Blak Social and the Blak Narrative Music videos project that we can have Volume 2,3,4 and infinity. "