William Barton at Mount Isa leading a ceremony to commence warrma piipa.
William Barton's composing a new song to Country with the help of the Queensland Symphony Orchestra and five Indigenous communities.
Over the next three-years, the would renowned Yidaki player and composer will travel with the orchestra to Cairns/Yarrabah, Rockhampton/Woorabinda, Gold Coast/Yugambeh, Charleville/Bidjara, which is William's Mother's Country and finally back to his home soil in Mt Isa/Kalkadunga Country, where the journey began, for a final ceremony.
William was first invited to perform with Queensland Symphony Orchestra at just 17-years-old and since then his music-making and storytelling has taken him all over the world.
The Kalkadunga virtuoso told NIRS News he wants to use those connections, networks, and experiences back to community, back to the Country where his inspiration was birthed.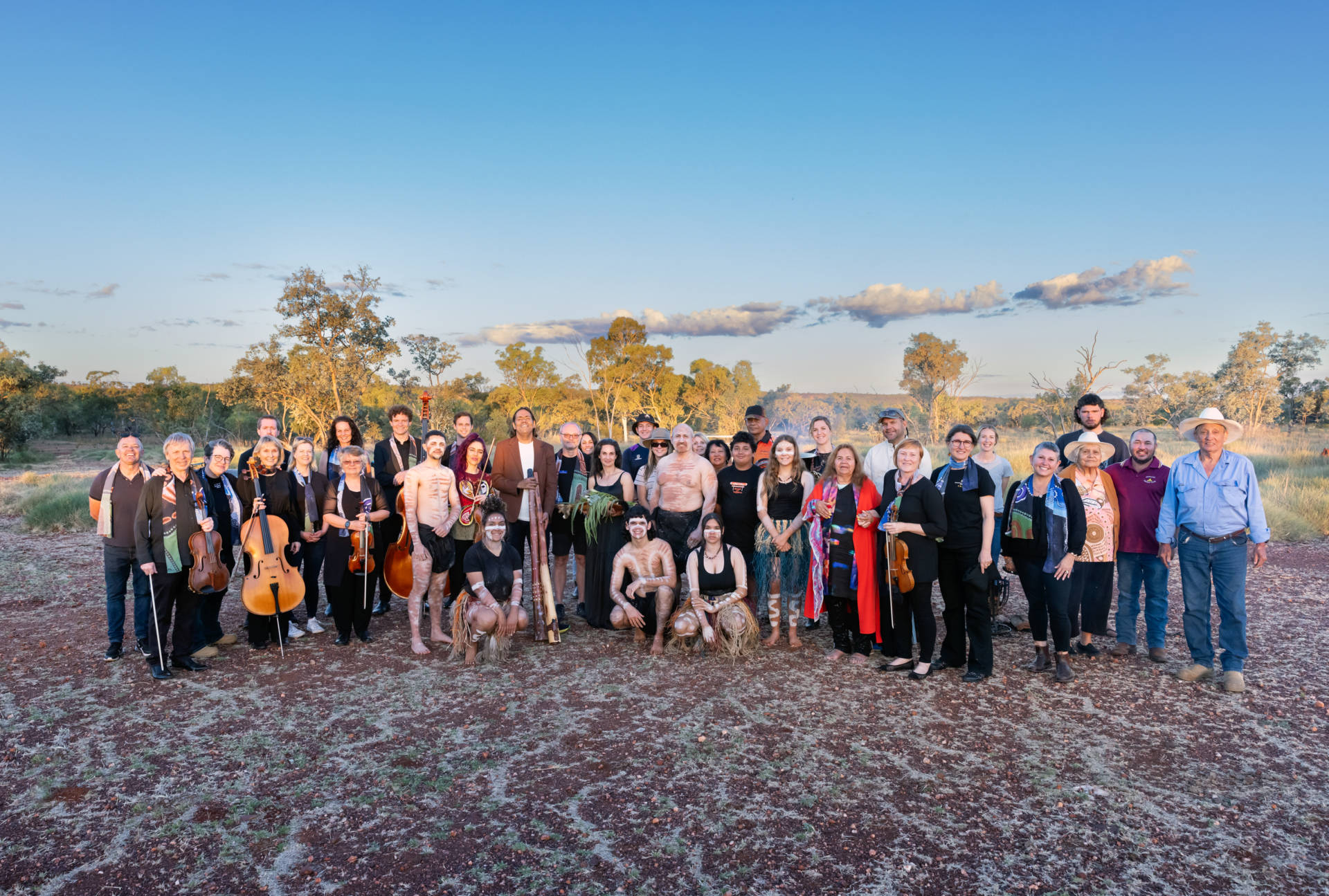 He says warrma piipa: ngatji patija; kutu patija; ngata waru (Songbook: My Story; Your Story; Our Journey) is about keeping the spirit of language and culture alive.
"We are in a time of great change and process, and warrma pippa is how I am using my voice together with the sonic force of the Queensland Symphony Orchestra, plus the intimacy of individual instruments to represent ideas and interpret the legacy of landscape, and the hope and potential of those who live on it.
"In creating the warrma piipa project, I acknowledge those aunties, uncles, grandfathers and grandmothers and I acknowledge my mother and father for creating a safe space, a pathway of connection and nurturing the next generation of cultural and musical ambassadors between our two worlds."
"I see warrma pippa as like the kangaroo sinew or twine, it symbolises fragility but also strength, and the importance of the lullaby between different nations, this is the significant of warrma pippa, in bringing together two worlds, to work together and find new artists for the next generation."
At every stop William will gift a message stick containing a USB so each community can record their contribution and track the project's journey.
He says warrma piipa is about empowering the local communities and showcasing their musical performances and stories.
"Our ancestors have always sung these songlines but they pass it on orally, you know, so it's a different world and with this modern message stick going around each community to, empower them.
"We're the facilitators and they're the heroes of our culture."
The closing Corroboree will include musical performances and song and dance from each of the five communities.
The ARIA award winner says the message sticks, or warrma piipa clap, also serves as an invitation to the final Corroboree which will include a musical performance and song and dance from each of the five communities.