The Labor government has welcomed Liberal MP Julian Leeser's decision to campaign for a 'yes' vote in the referendum, following his resignation from the Coalition's frontbench.
The former shadow attorney general and minister for Indigenous Australians made the announcement on Tuesday, a week after Peter Dutton confirmed the Liberals would formally oppose an Indigenous Voice to Parliament.
"Over the past year I have had many respectful discussions with my parliamentary colleagues about the Voice. I have listened to their views, and they have heard mine, but ultimately, I have not been able to persuade them," Leeser said in a statement.
He will move to the backbench, meaning he can vote freely on every piece of legislation according to his conscience.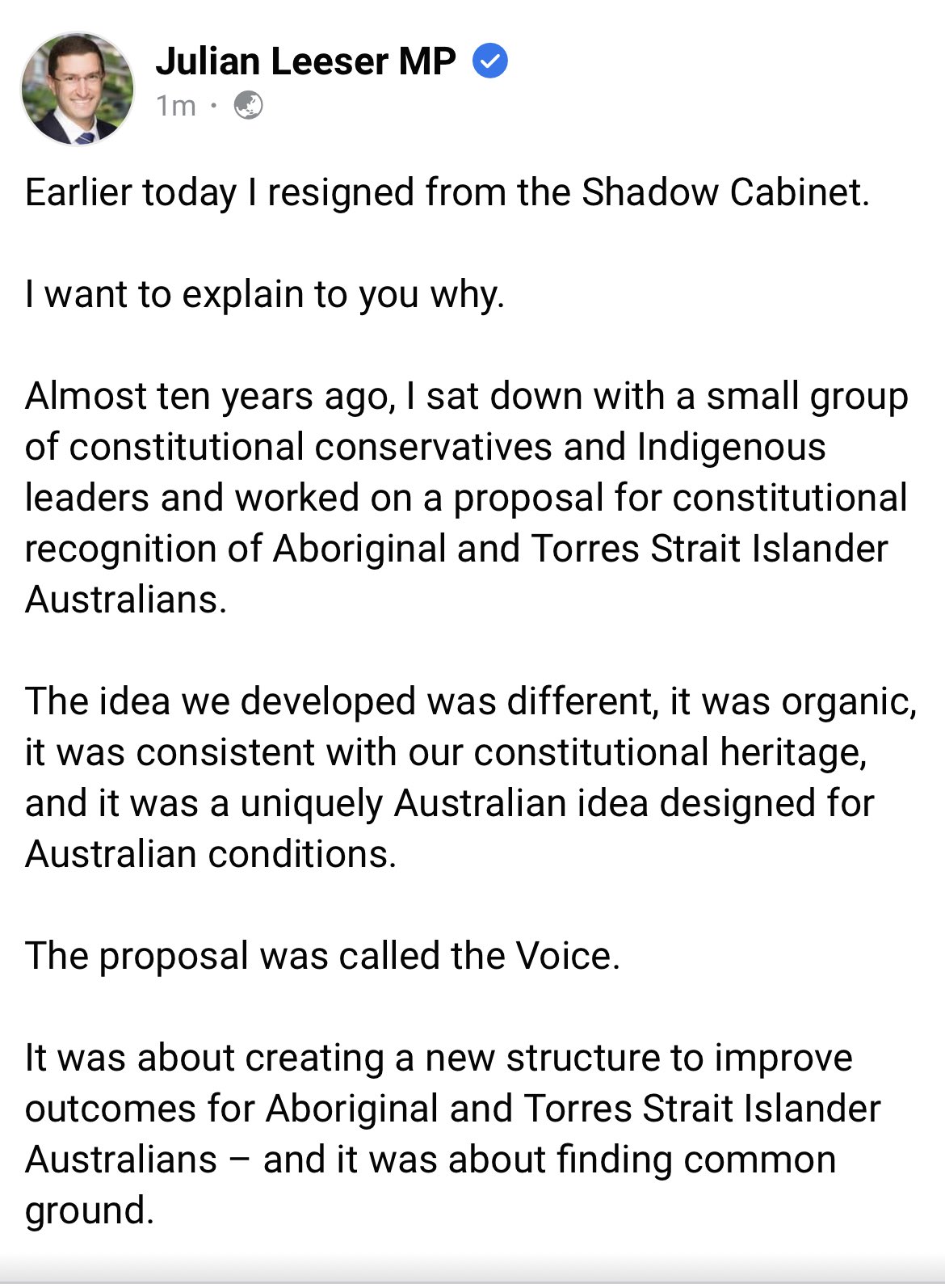 The longtime supporter of an Indigenous Voice said while he will be campaigning for 'yes', no matter the outcome, he will continue to push for the model he put forward in his National Press Club address, which he says will improve its chances at the ballot box.
"The Press Club model for the Voice – is constitutionally sound, gives Aboriginal and Torres Strait Islander Australians a place in our founding document, and recognises the supremacy of Parliament in our constitutional system. It improves the model put forward by the government and its Referendum Working Group."
Speaking in Sydney, Leeser criticised the Albanese government's failure to "seriously engage" with Coalition voters and outlined who still needs to be brought across the line for the referendum later in the year.
"I believe that the government must seriously engage with Coalition voters and it hasn't done so to date, and this failure could ultimately put the referendum at risk," he said.
"When it comes the voice I believe that Australian who remain to be convinced by the 'yes' case fall in to three groups. The first group, are those opposed to the voice on philosophical or constitutional grounds."
"The second group, are those that support the voice in principle, or that want to support it, but who in the vast majority of cases have genuine doubts and questions about the proposal that the government's put forward, and the third group are yet to engage, but that they too will have questions and concerns."
Indigenous Affair Minister Linda Burney has welcomed her counterpart's resignation from the shadow frontbench, saying he has shown strength in putting his principles ahead of politics.
In a statement, the Wiradjuri minister said his decision reflects his long-held commitment to constitutional recognition through a Voice, and an understanding that this year's referendum is a once-in-a-generation chance to make a real difference in the lives of Aboriginal and Torres Strait Islander people."
She emphasised that Australians of all backgrounds are supporting the Voice, including leaders of every faith, every Premier and Chief Minister, and a growing number of Liberals.
Acting Prime Minister and Foreign Affairs minister Penny Wong said he's shown real strength in making his decision today.
"He's put his principles first, he's put his principles ahead of partisan politics, and we welcome that," the minister said.
"It can't have been easy for him to do, it can't have been easy for him to relinquish portfolios which he demonstrably cares so deeply about."