The head of clinical governance with a leading Indigenous health organisation in Darwin says education campaigns are key to a successful COVID-19 vaccination roll-out in remote and regional Indigenous communities.
The Australian Government has secured 53.8 million doses of the AstraZeneca COVID-19 vaccine and about 10 million doses of the Pfizer vaccine, with Phase 1a of the roll-out set to begin in mid-to-late February.
However, Australia is currently looking into concerns about the safety of the Pfizer COVID-19 vaccine after about 30 elderly and frail people died in Norway when being inoculated with the vaccine.
Former Chief Health Officer, Professor Brendan Murphy told ABC News Breakfast on Monday he was not 'unduly concerned' about reports of adverse effects in relation to the Pfizer vaccine in Norway.
"This group of people who had these adverse effects, and unfortunately some died, were very, very old and frail," he said.
Professor Murphy added, "It is not clear whether the vaccine — how directly related to the death it was" and Australia's "Therapeutic Goods Administration (TGA) are looking into this information."
Due to difficulty storing and shipping the Pfizer vaccine, which must be stored at minus 70 degrees Celsius, the "more usable" AstraZeneca vaccine has been identified as the most likely choice for remote settings and requires two doses 12 weeks apart to be effective.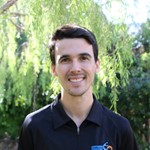 The Danila Dilba Health Service's Dr Andrew Webster said this can present a massive logistical challenge in distributing the vaccine to remote communities, where populations can be highly mobile and often move between town and home communities.
These people will need to be followed up for a subsequent vaccine to ensure vulnerable community members who are not eligible to receive the vaccine due to medical issues are protected as well.
There is also the added challenge of frequent road closures in the north of Australia due to weather conditions at this time of year.
Following Phase 1a of the vaccine roll-out which is primarily made up of frontline health workers and aged care staff and residents, Phase 1b is expected to cover 6.1 million people including Aboriginal and Torres Strait Islander people aged 55 and over.
Aboriginal and Torres Strait Islander people who are between 18-54 will be included in the next Phase 2a.
Dr Webster said it is essential public education campaigns are presented to communities in a variety of languages from trusted community leaders.
This will ensure the public can make an informed decision in protecting not only themselves but also the most vulnerable members in the community.