By Nance Haxton
A radio station in South Australia's north is holding COVID-19 vaccination clinics and a specially organised AFL sporting event to encourage locals to get fully vaccinated before SA borders reopen.
Port Augusta based Umeewarra Media is hosting four COVID vaccination clinics at its radio studios in the middle of town, starting today (Monday November 2).
It's the first of four clinics Umeewarra Media is organising in the leadup to a specially organised AFL sporting event called Nunga X on December 11 and 12 in the outback town.
Only people who have had both COVID-19 vaccinations will be allowed to participate.
Umeewarra Media broadcaster Dre Ngatokorua says it's all part of their push to get as much of the community vaccinated as possible before November 23 when South Australian borders restrictions are dropped.
"We've organised one of the Aboriginal health clinics and one of the doctors to come through and do the vaccinations here so that people can come in," Mr Ngatokorua says.
"So if people want to get their second one during that time they can, or if they want to get their first one we've got a cut off date of participating in the sports event since it is a fully vaccinated event, but I think just trying to get them to the first vaccination is really important."
Port Augusta man Peter Jackson was the first in line at Umeewarra Media for a vaccination today, saying it was important to him.
"I got vaccinated because I need to keep people safe in the APY lands where I work," Mr Jackson says.
Dre Ngatokorua says the Nunga X sporting day will be a great celebration, with teams decided through a draft system from fully vaccinated players.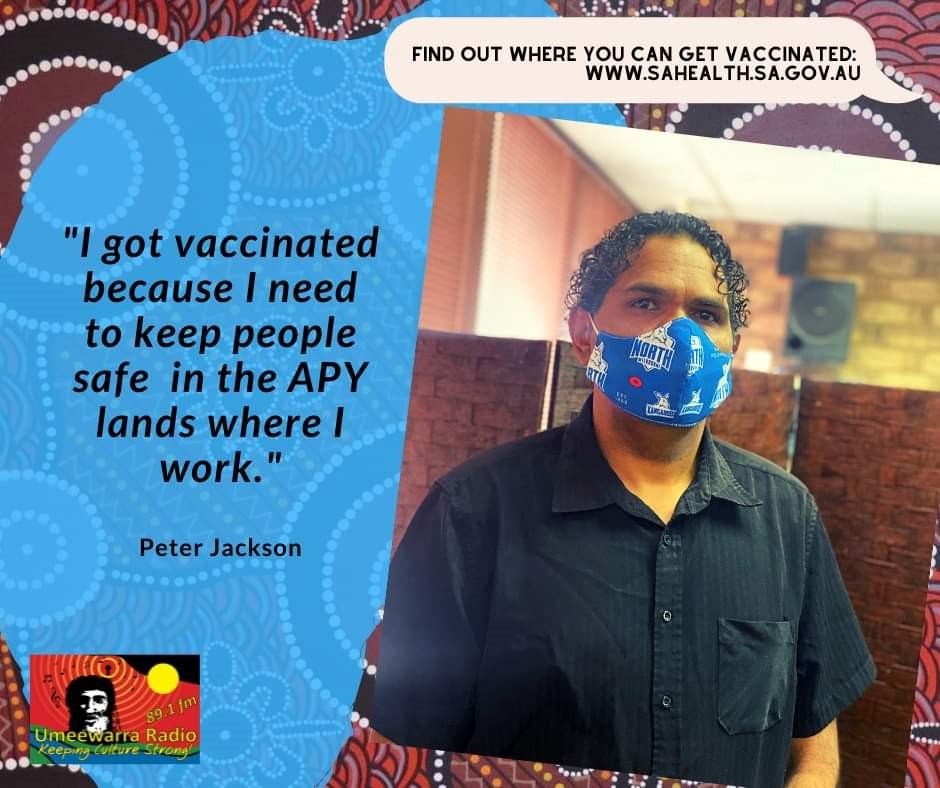 "We're trying to make it fast paced, we've got smaller teams, and interesting scoring in there where people get double points it's just a lot of fun where anything can happen at any moment," he says.
"There's going to be a heavy focus in November to get everybody vaccinated.
"It's really central in town where we are right in the middle and more people are comfortable coming in and finding us that they trust us. It just makes the whole process a whole lot smoother and easier." Future covid vaccination clinics at Umeewarra Media are on November 16, and November 23 and December 7 for second jabs.