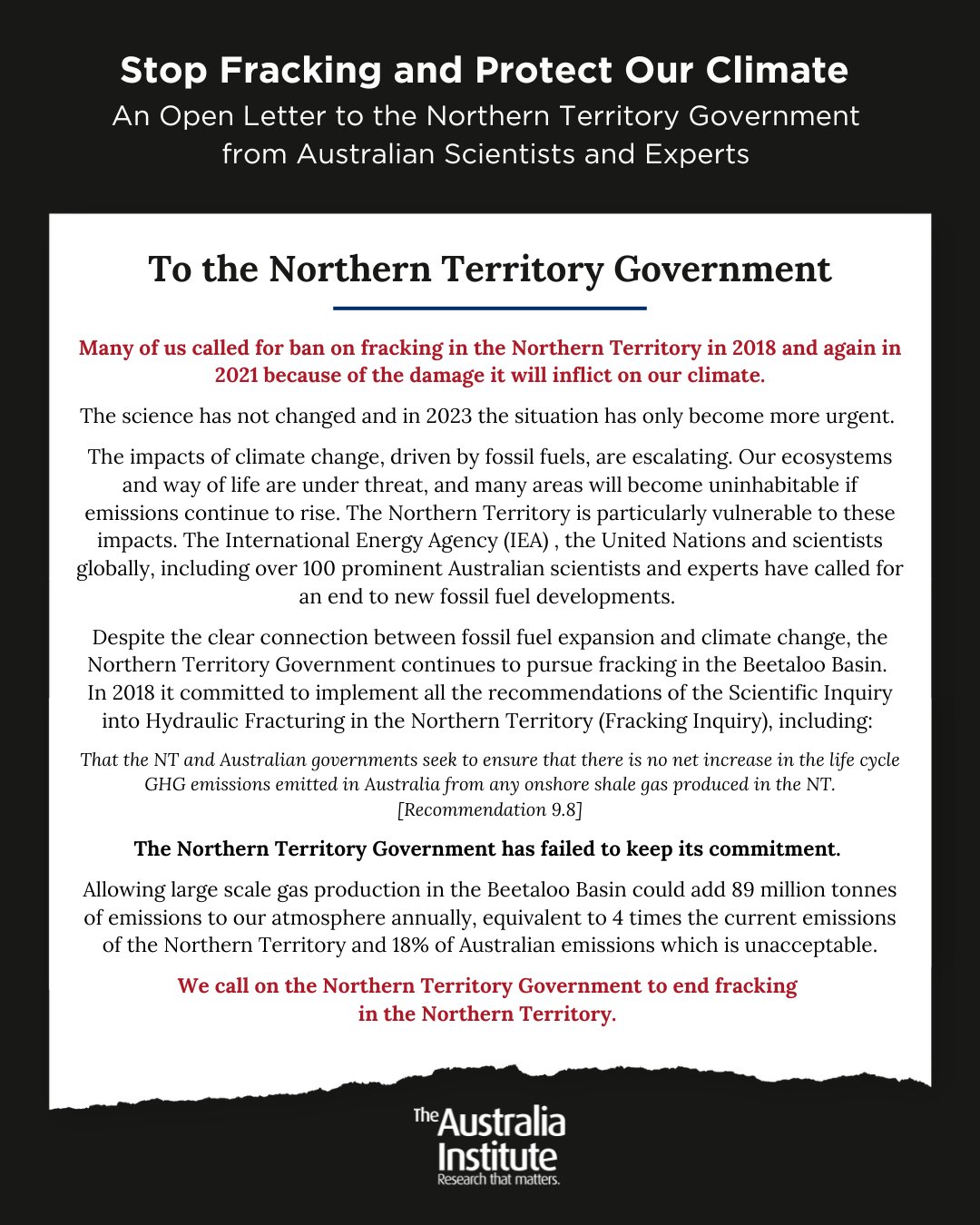 NT Deputy Chief Minister Nicole Manison says nearly 100 of the nation's leading scientists and experts calling for an end to fracking in the Territory, should mind their own business.
It comes as the NT government approves fracking in the Beetaloo Basin, after lifting a five-year moratorium.
NT Chief Minister Natasha Fyles says the way has been cleared with all 135 recommendations from the 2018 Pepper inquiry implemented.
"We have strengthened government agencies, we have strengthened legislation to rigorously assess environmental management plans," she told reporters on Wednesday.
However, the Territory government's own website lists action item 9.8 of the Pepper inquiry – "ensure there is no net increase in emissions in Australia from gas in the NT" – as only 50 per cent complete and 5 months overdue.
Independent Oversight Commissioner to NT Fracking Inquiry, Dr David Ritchie published a letter on Wednesday confirming 9.8 is not implemented.
"Despite the Commonwealth agreeing to "work with the Territory to support its implementation of recommendation 9.8 using available technology and policies"22, there has been no progress on the crux of this recommendation."
Scientists say the Beetaloo Basin will pollute up to 1.4 billion tonnes of greenhouse gas over its lifetime, but Manison, who is also the Minister for Mining and Industry, says gas expansion will help to transition away from fossil fuels.
Mark Ogge the Principal Adviser at the Australia Institute that published the open letter urging the NT government to abandon fracking, called the minister's comments disappointing and disingenuous.
"Deputy Chief Minister Manison started her press conference today claiming to respect science," he said.
"It is disappointing that she chose to finish it by denigrating 96 scientists, experts and prominent Australians and greenlighting up to 1.4 billion tonnes of fracking emissions in the NT.
"It would be practical and level-headed of the Minister to respect the climate science, experts from the NT, warnings from the United Nations and the International Energy Agency all of which say we cannot continue to open up new fossil fuel projects without fuelling catastrophic climate change.
"Failing that, the NT Government should follow through on its own 2018 commitment to implement all the recommendations of the Pepper Inquiry."
You can listen to Mark Ogge's full interview here:
About 500km southeast of Darwin, the Beetaloo Basin contains an estimated 500 trillion cubic feet of gas, making it one of Australia's most energy resource-rich areas.